Domino's Carside Delivery: It's Carryout, Delivered
Published: July 8, 2020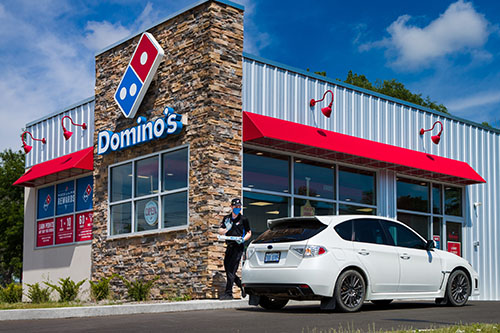 Domino's customers now have yet another way to carry out their favorite pizza: via Domino's Carside Delivery™. Domino's Carside Delivery is a new contactless carryout option that customers can choose when placing a prepaid online order, and it is now available in stores across the U.S.
"Domino's is all about providing a delicious, hot meal, the way customers want it – whether via carryout or delivery," said Dennis Maloney, Domino's senior vice president-chief innovation officer. "Domino's Carside Delivery gives customers the option to stay in their vehicle while a team member delivers their order to them, making for a convenient, contactless carryout experience. It's carryout, delivered."
When customers place a prepaid digital carryout order, they'll see the option for Domino's Carside Delivery. Once they make that selection, they will be prompted to add their vehicle color, make and model, which will be used to identify them when they arrive at the store. Customers can also select where they'd like their order placed – the passenger side, back seat, trunk or the option to decide when they arrive. Customers can notify the store when they arrive by hitting the "I'm here" button on Domino's Tracker® page or by replying "HERE" to Domino's opt-in text, and a team member from the store will bring the order to their vehicle.
Domino's Carside Delivery is currently available from 4-9 p.m. in stores across the nation. Additional hours may vary by location. To find the nearest Domino's location or to place an order, visit dominos.com.
---
For more information on this story, contact us.