Supporting the Work of BMe Community and Leaders Like Tiffany Brown
Published: Feb. 14, 2022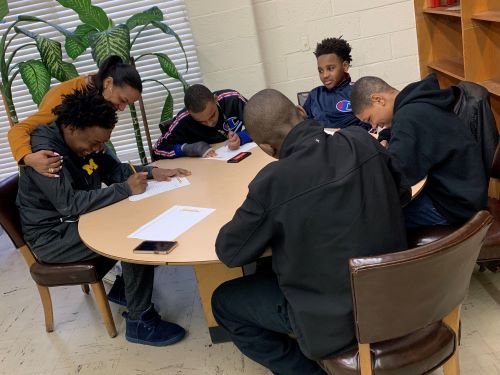 In 2021, Domino's donated more than $340,000 to organizations supporting the Black community, including 100 Black Men of America, National Urban League, Pretty Brown Girl and the United Negro College Fund. That donation also included a $50,000 contribution to BMe Community.
Tiffany Brown believes in empowering and uplifting Black youth.
At Detroit Food Academy, a nonprofit organization dedicated to cultivating young Detroiters into holistic, healthy, and connected leaders through culinary arts and food entrepreneurship, Tiffany serves as the executive director of programs. But, that's just her day job.
In 2016, Tiffany founded her own nonprofit also serving Detroit youth. Developing Despite Distance, called 3D for short, is a community-based program supporting young men with incarcerated parents through group counseling, letter writing and other youth development and social-emotional learning activities. So, it's no surprise that Tiffany is also a BMe Vanguard.
The BMe Vanguard is an esteemed invitation-only award and program operated by BMe Community that provides Black leaders with additional knowledge, influence, and networks. BMe Community is a nonprofit that believes in celebrating, building and empowering Black leaders. Domino's donated $50,000 to BMe in 2021 as part of the brand's commitment to supporting nonprofits in uplifting the Black community. As a remarkable leader and inspiring force to those who work with her, Tiffany is one of 360 BMe Vanguards whose skills are nurtured through the program, thanks in part to donors like Domino's.
Tiffany was nominated for the fellowship by a colleague and BMe member, connecting her to a network of like-minded peers and exposing her to concepts like asset-framing, a narrative model that defines people by their assets and aspirations before noting the challenges and deficits.
"I've learned so much about asset framing – owning our own narrative and telling our Black stories from an aspirational lens," Tiffany said. "We're conditioned to do the opposite, so this takes practice and intention – work I'm committed to do."
She isn't the only one sharing her story. Tiffany shares learned concepts like asset-framing with her colleagues and the youth she is proud to serve.
"I tell the young men at Developing Despite Distance that you are bright and brilliant and resilient," she said. "It is critical for youth impacted by parental incarceration to know how capable and powerful they are."
Individuals like Tiffany are spreading the gains from the BMe Vanguard experience into their own neighborhoods and workplaces – fulfilling BMe's vision of strong, authentic innovators, leaders and champions investing in aspiring communities.
"We're committed to building caring and prosperous communities inspired by Black people," said Sarah B. Multidor, BMe Community chief culture officer. "The BMe family comes from all walks of life and works in all fields at every level of society. The common denominator is that they each have dedicated their lives to building Black people's freedoms to live, own, vote or excel, and we call that Black L.O.V.E. Tiffany puts it best, saying that her work is 'heavy, and it's real, but we're not afraid to talk about it,' and instead works on developing healthy coping strategies not only for the young men, but the community overall."
Tiffany said she plans to expand her work at Developing Despite Distance, increasing the scale of programming and the number of youth reached.
---
To support and learn more about Tiffany's work, visit Detroit Food Academy and Developing Despite Distance.