Domino's in Savannah Helps Feed First Responders and Residents After Tornado
Published: April 25, 2022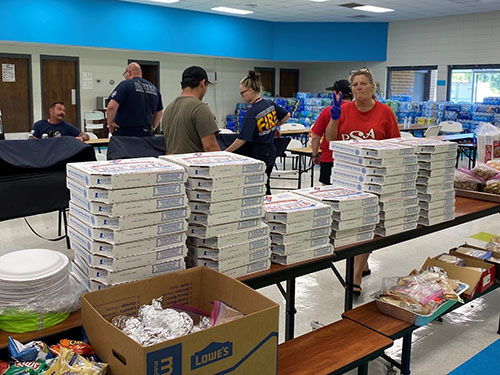 On the evening of April 5, 2022, an EF4 tornado with winds of 185 mph touched down in Bryan County, Georgia, in the center of Pembroke. The tornado traveled about 11 miles from Pembroke through Black Creek, and eventually dissipated about 15 minutes later. The Black Creek community was one of the hardest hit areas.
Domino's in Savannah, located at 5796 Ogeechee Road, which is about 22 miles away from Black Creek, immediately jumped into action.
"We knew that disaster relief was underway and that food was needed for victims, volunteers, linemen, and emergency services," said Andrew Taylor, Domino's regional director in Savannah. "With the store's help, we were able to feed the need when it was absolutely needed most in a community that is so near and dear to our hearts."
Team members at Domino's in Savannah made and delivered 50 pizzas to various first responders and residents throughout the community as recovery efforts took place on April 7.
"I have to say that the overwhelming response to our efforts from the community and first responders when we dropped off the pizzas was extremely moving," Andrew said. "They were extremely grateful and excited to have hot, fresh pizza for dinner."
Andrew said that he has never felt such a genuine appreciation from a community before.
"I am extremely grateful for the opportunity to help those in need," he said. "I hope that myself and my stores are able to do so again when the need comes."
---
For more information on this story, contact us.