From the National Guard to Domino's: Developing a Culture of Teamwork
Published: Nov. 4, 2019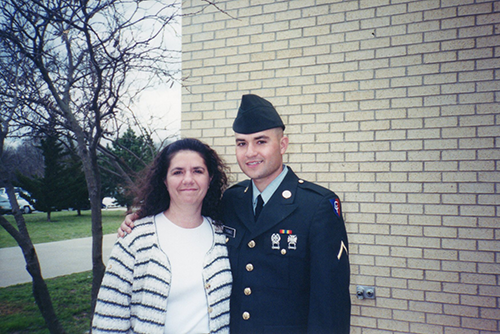 This is the first of a two-part series that recognizes and honors those who have served our country. Domino's thanks you for your service!
Every morning when franchisee Ben Thomas walks into one of his stores, he's determined to find what makes each of his store employees tick, and to use that to motivate them to reach new heights.
"There are a lot of different people in a store, so it's important to find what the motivation is for everyone," Ben said. "It was something I picked up from my time with the National Guard. You learn how to inspire others and get different people to work together."
Ben joined the Ohio Army National Guard in 2000, looking for an opportunity to serve his country and develop himself through travel and education. What he didn't expect was a career-changing decision that would lead him to franchising.
Right after completing his basic training, Ben joined the local Domino's franchisee in Enon, Ohio, as a delivery driver. For the next six years, he worked in the store while serving for the National Guard on weekends and additional duty assignments.
"The people, the franchisee and the environment of the store all seemed to be a great fit for me," he said. "When they needed me as a customer service representative, I agreed to try it out, too. That led to a shift lead and eventually, manager."
Ben decided to take the next step to managing the store once he completed his service with an honorable discharge in 2006.
The importance of teamwork and standards being instilled in him from his time with the National Guard has helped him progress his Domino's career. Ben remembers the collaboration and motivation needed when he was deployed to assist during Hurricane Katrina, and he uses that experience to get his Domino's team to work together.
"One phrase that everyone in the military knows is 'adapt and overcome,'" Ben said. "These three words can help in almost every situation that may come up, from staffing to breakdowns to late night rushes. When everyone works together and knows what to do, it helps everything run smoothly."
Four years after accepting a manager position, an opportunity came up to purchase the store Ben had begun his Domino's journey at, and he made the leap into the role of franchisee.
This past July, he purchased his second store in New Carlisle, Ohio, and celebrated five years as a Domino's franchisee. Ben's future looks bright, and he is ready to take on the next chapter of opportunities for his business.
"I couldn't be more excited for this part in my journey," he said.
---
Did You Know?
Veterans make up 5% of Domino's franchisees.
More than 200 Domino's stores across the U.S. are owned by veterans.
Domino's has franchisees who are veterans in 20 states.
Domino's has 145 stores that are located on or near military bases across the country.
---
For more information on this story, contact us.