Locally Owned Domino's® in Bangor Teams Up with Make-A-Wish Maine to Make 4-Year-Old's Wish Come True
Published: August 29, 2022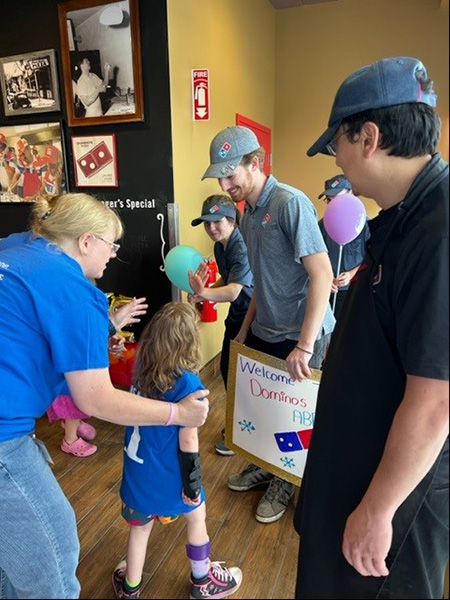 It is not every day you get the opportunity to make a child's wish come true. When Lee Prior, franchise owner of the Domino's store in Bangor, Maine, received a phone call from Mackenzie Perry, a wish manager at Make-A-Wish Maine, he was nothing short of ecstatic.
"I didn't know what they were going to ask me, but I knew enough about the Make-A-Wish Foundation to know that I was all in," Lee said.
Make-A-Wish Maine grants 75 wishes a year to children ages 2 ½ to 18 who have been diagnosed with a critical illness.
"There is a delightful 4-year-old named Abbie with a seizure disorder whose wish it is to get a hot tub in her backyard," said Mackenzie.
In typical Make-A-Wish Maine fashion, they made that wish come true. To make it a surprise, they needed to get Abbie out of the house, and what better way to do that then take her out to her favorite meal – pizza at Domino's!
That is where the Domino's store in Bangor came into play. Instead of just a quick pizza lunch, the team at Domino's went all out. They closed the store to the public so Abbie could have it all to herself and covered it in decorations from her favorite movie, "Frozen." The Domino's team even made sure they had a special dessert for Abbie – her very own "Frozen"-themed cake. To make sure Abbie arrived in style, Make-A-Wish Maine also arranged for a limo to pick her up and take her to the store.
What did Abbie do when she arrived? Team members greeted her and asked her if she'd like to learn how to make a pizza. Of course, she said yes, put on a Domino's apron and learned from the best!
"Abbie was instantly excited as soon as we opened the doors for her as she saw all the 'Frozen'-themed favors," said Lee. "She immediately wanted to get out of her wheelchair and take it all in. We rolled out the red carpet for Abbie and we couldn't have asked for a more wholesome, excited reaction. The look on her face alone made the entire event well worth the effort."
After a day full of limo rides and having her very own "Frozen"-themed pizza party at Domino's, Abbie returned home to find her wish come true: a brand-new hot tub in her backyard, which has served as a great form of physical therapy for her, allowing her to have more mobility.
"The Domino's team in Bangor went above and beyond to make Abbie's wish day extra special," said Mackenzie. "Community members coming together in creative ways like this is what allows our organization to bring hope, strength and joy to our wish kid and their families when they need it most and we are so grateful for their partnership."
Lee and the Bangor Domino's team were thrilled they could be a small part of making Abbie's wish come true.
"While we're in the business of making pizza, we're also in the business of bringing joy to people, and we're glad we could be a part of Abbie's special day," Lee said. "To be able to, just for the day, set everything else aside and focus on bringing happiness to Abbie and her family was special. We all are very grateful for the time we got to spend with them."
---
For more information on this story, contact us.