Giving Back in Times of Need: Kindness Matters in Florida
Published: April 6, 2020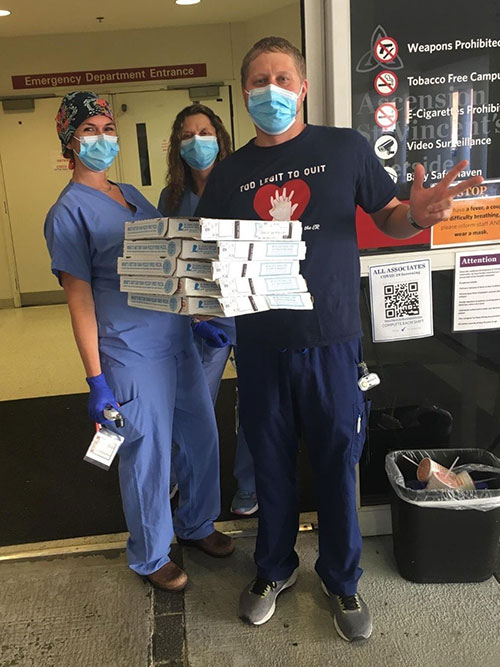 Domino's corporate stores and franchisees across the country are doing what they can to help during the COVID-19 crisis. This story is part of a series where we highlight local Domino's owners and team members who are giving back to their communities.
"In a world where you can be anything … be kind." It seems like you hear that quote more and more these days. For some, that is more than just a saying – it is a way of life.
Every morning, Asi Sheikh's team members throughout Florida wake up to text messages that set an inspiring tone for the day. The messages say things like, "Be the good in someone's life today," or "Make sure to take care of someone in need by feeding them and helping them out."
Asi owns more than 30 Domino's locations throughout Florida – primarily in the Greater Jacksonville area.
"Asi has an incredibly big heart and is very motivated to help those in need in the communities we serve," said Peggy Richards, company director for Asi. "He always says, 'Don't ask for permission on how to help others. Just do it. If you see the need, take care of it.'"
Asi's team recently reached out to hospitals throughout the Greater Jacksonville area during the COVID-19 crisis to help feed healthcare workers. Domino's team members delivered more than 150 pizzas to 21 hospitals.
"I wanted to do something meaningful for the medical professionals working around the clock to help our local communities at such a critical time," Asi said. "I know not many of them have time for a hot meal. That is where Domino's came in. They are serving others, saving lives. We felt proud we could serve these heroes in our own way."
Asi and his team are not stopping there, though. They are continuing to serve the community.
"Our next big delivery will be dropping off pizzas to team members in grocery stores," said Peggy. "They have felt the rush since day one and we want them to know how much they are appreciated. A free, hot meal is the best way we know how to do that."
Domino's stores throughout Jacksonville also plan to deliver pizzas to churches and schools to help feed students who are unable to receive hot meals at home.
"A little kindness goes a long way," Asi said.
---
For more information on this story, contact us.