Domino's Delivers More Than Pizza on International Women's Day
Published: March 17, 2022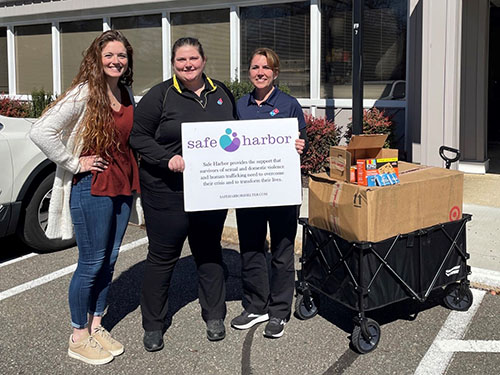 When women support each other, incredible things happen.
In celebration of International Women's Day on March 8, two Domino's team members did just that by making a few special deliveries to women's organizations in their areas.
Safe Harbor, which is in Richmond, Virginia, provides the support that survivors of sexual and domestic violence and human trafficking need to overcome their crisis and to transform their lives. On March 8, Nona Wood, Domino's director of corporate operations in Virginia, made a special delivery to the organization, but it wasn't for pizza. Nona delivered towels, coffee and granola bars – items that were on Safe Harbor's wish list.
"Safe Harbor works to save, transform and rebuild lives in our local community," Nona said. "I felt like it was the perfect organization to focus on during National Women's Day. They dedicate so much time and an incredible amount of resources to our community. They help so many women who have experienced physical and emotional hardships, and I felt this was a great organization to give back to."
The Harriet Tubman Center is another organization that delivers help to thousands of people throughout the Greater Maplewood, Minnesota, area. It provides services, support and information to those in need who have experienced trauma – including relationship violence, sexual assault and exploitation, trafficking, addiction, mental health issues, and more. So when Trish West, operations manager at Domino's Minnesota Supply Chain Center , learned that the center needed bed sheets, baby bottles and shampoo, she was happy to deliver them.
"Simple, everyday items that many people take for granted is what these centers need so badly," Trish said. "I wanted to give back to the Harriet Tubman Center because I have seen firsthand how much good they do in our community. Little acts of kindness and compassion go a long way."
International Women's Day – and every day – is driven by the collective efforts of all in supporting, inspiring and empowering women worldwide. Domino's is proud to have so many female team members who help move it forward with their passion projects.
---
For more information on this story, contact us.