WE ARE MADE BETTER TOGETHER
"Do the Right Thing" and "Put People First" are our top two core values at Domino's. From those two values our Inclusion and Diversity mission was launched, and we have been relentless in our commitment to building and strengthening our culture every day. We are proud to celebrate the diversity of our team. It's that diversity that allows us to innovate and operate successfully in over 90 countries around the world.
– RUSSELL WEINER, DOMINO'S CEO

Fostering inclusion and diversity is simply the right thing to do. We believe creating a sense of belonging for everyone promotes a thriving culture of innovation where anything is possible. That's why we are committed to building a culture that welcomes, seeks to understand and values everyone's whole self. Inclusion and diversity efforts have been crafted with strategic framework that encompasses three pillars:
Workforce – focused on the diversity of our workforce at all levels of the organization.
Workplace – focused on ensuring that our company-owned stores, offices and supply chains are inclusive.
Marketplace – focused on ensuring our brand reaches and is relevant to all consumers.
Our workforce diversity efforts include best practices that elevate our recruiting and development policies. We measure and monitor our efforts to keep track of our progress in reflecting the diversity of the communities we serve. Our Board of Directors has established an Inclusion and Diversity Committee, which meets regularly and provides oversight, guidance and support for our Company's inclusion and diversity initiatives, as well as monitoring and measuring progress against our goals. Part of the progress we are committed to is to publicly provide our 2022 EE0-1 data in 2023.
Domino's is committed to fostering an inclusive culture in the workplace where people are respected and appreciated and where team members listen, learn and support each other. Through our employee resource groups (ERGs), company-wide fireside chats featuring inclusive topics and speakers, and best practice sharing, we remain focused on becoming better leaders and promoting an inclusive culture.
Our ERGs seek to provide diverse networking and forums for team members to find community and connection, express their needs, as well as provide an opportunity to come together to support local community initiatives. We currently have ERGs representing our Black, Hispanic and LGBTQ+ communities, as well as women in the workforce and individuals with disabilities, with more to potentially come based on team member interest. More information about our ERGs can be found here.
Our marketplace efforts have been particularly focused on important efforts in media and advertising. To further reflect the diversity of our customers, team members and the communities we serve, we are committed to the allocation of 2% of our 2022 upfront media budgets to diverse-owned media companies, production houses and content creators. We plan to double it to 4% in 2023. We have also added a minority-owned digital agency to our roster and have implemented a new process that is designed to create more diversity in our production/post-production work. We also are partnering with our advertising agency, WorkInProgress, to launch "Opening Shot", a program created to promote diversity and inclusivity in the advertising industry by providing opportunities for individuals from diverse backgrounds to shadow professionals on an actual commercial shoot.
In addition to marketing to broad, diverse English-speaking audiences, we will continue to invest in reaching customers who view Spanish language programming. We will continue to evaluate additional investment opportunities in multicultural properties. In doing so, we will maintain strong stewardship of the marketing dollars provided by our independent franchisees, through the use of data from our media mix model and industry research, to identify the most cost-effective manner to reach diverse audiences.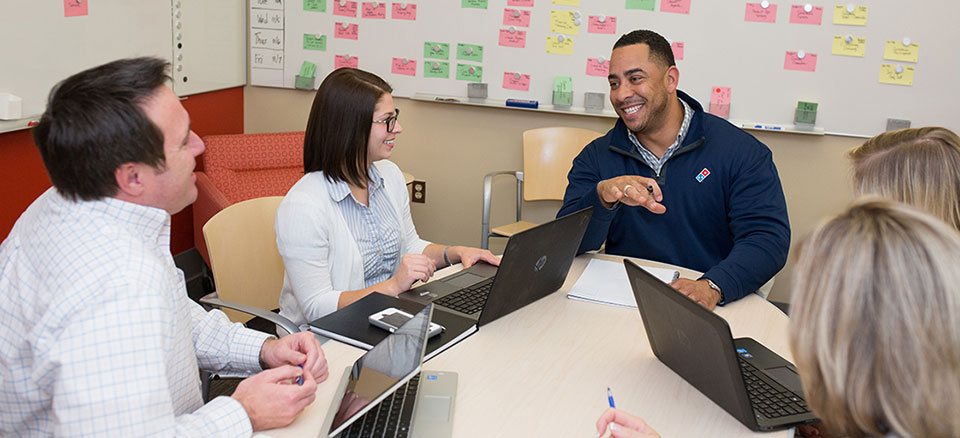 Pay Equity and Representation of Diverse Talent
Domino's commitment to creating an inclusive work environment is built on a foundation of providing equal access to employment opportunities and equal earning potential for our team members. Domino's has invested in rigorous assessment and reporting to strategically define inclusive talent outcomes. Outcomes are based on market labor data and trends projected to 2030 and include the following objectives:
Achieve gender parity in representation in U.S. corporate and store management and leadership positions by 2030.
Attain at least twenty eight percent representation of historically underrepresented racial/ethnic groups in U.S. corporate management and leadership positions (managers, directors and above) by 2030.
We take pride in being a work-in-progress brand, dedicated to continuous innovation and improvement in everything we do. Our efforts represent our continued commitment toward pay equity and workforce representation of historically under-represented groups.
Pay Equity:
Domino's* removed all questions from the interview process which solicited pay history; removing this barrier enables candidates to be paid in line with their peers and salaries in the market.
Pay and salary rates for all** positions are regularly reviewed to monitor equitable pay practices across the organization.
Domino's has confirmed pay equity across the organization in our offices, stores and supply chains for our salary and hourly positions**. This result has been accomplished by proactively examining pay in partnership with third-party experts.
Representation of Diverse Talent:
We actively monitor and measure the progress of our efforts to foster diverse talent in our workforce – including race/ethnicity and gender - to reflect the diversity of the communities we serve.
Our inclusion and diversity strategy includes support programs, inclusive benefits, workplace learning, community giving, volunteerism, support of employee resource groups and recruitment strategies that engage broader and intersectional diverse identities.
We have invested in a reporting platform with the support of data scientists and expert advisors that provides our executive leadership with deep insights to integrate business solutions with people solutions focused on continually enhancing our diversity.
*Reference to Domino's in these statements refers to Domino's corporate stores, supply chain centers and offices. Information contained in this report does not reflect statements on behalf of franchisees. **CDL drivers' compensation is based on a dynamic pay structure not integrated into traditional salaried or hourly pay structures