NEED TO COORDINATE FOOD DELIVERIES TO MULTIPLE LOCATIONS?

Let Domino's Pizza Concierge take it off your plate.
If it's your responsibility to make sure food is delivered on time to multiple locations for a special event, Domino's Pizza Concierge can take care of it for you.
Whether you need to deliver to two locations or thousands all over the country (U.S.), your Pizza Concierge will take your order and coordinate with all the different Domino's locations.
And to make your job even easier, this completely turnkey program also offers easy pricing, payment, and scheduling, as well as several different menu package options to choose from.
The Domino's Pizza Concierge Service is perfect for corporate events, seminars, training, company celebrations, customer appreciation, even as a reward for employees who have to work during a holiday. So the next time you have a special event that requires multiple deliveries to multiple locations, just say, "Hello Domino's Pizza Concierge" and good-bye worries.
SOUNDS DELICIOUS – TELL ME MORE ABOUT THE DOMINO'S PIZZA CONCIERGE
ALL YOUR EMPLOYEES WORK AT THE SAME LOCATION?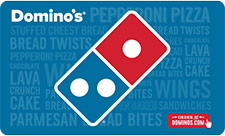 Don't Let That Stop Them From Enjoying Some Free Domino's
If you don't have more than one location, you can still treat your employees to Domino's. Just order some Domino's gift cards and use them as rewards, incentives or just an easier way to pay for smaller, regular orders.
You can purchase gift cards online with free shipping at dominos.com. If your order has a total combined value over $500, consider registering for a Corporate Account.