TEAM MEMBERS HELPING TEAM MEMBERS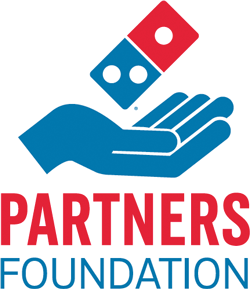 Domino's Partners Foundation was the inspiration of many caring team members and franchise owners who felt strongly about taking care of their own. Partners was created in 1986 to aid Domino's team members in times of hardship and adversity. It provides immediate financial assistance to franchise and corporate team members around the world, following on-the-job accidents, a fire, natural disasters, medical emergencies or the death of an immediate family member.
Since its inception, the Partners Foundation has given more than $25 million of financial assistance to team members in need. Its primary funding comes from a companywide payroll deduction program in which team members can choose a giving amount that is appropriate to them.
HOW TEAM MEMBERS CAN GIVE
Domino's team members who wish to participate in a payroll deduction program for Partners can do so by filling out a payroll deduction form, available in English and Spanish.

WHO IS ELIGIBLE TO RECEIVE ASSISTANCE?
Any current Domino's team member is eligible to receive financial help. Assistance is not guaranteed and is based on a detailed set of board-approved criteria. It is not considered an insurance plan, benefit plan or a loan.
HOW TO REQUEST HELP FROM DOMINO'S PARTNERS FOUNDATION
If you have been displaced or otherwise affected by a natural disaster or personal hardship and need assistance, please contact Domino's Partners Foundation using one of the following methods:
ONLINE REQUEST FORM – FOR ACTIVE DOMINO'S TEAM MEMBERS ONLY
Email: partners@dominos.com
Phone: +1 734-930-3297