When it comes to the pizza delivery experience, nobody does it better than Domino's. As an early pioneer for efficiently delivering made-to-order pizzas, Domino's has launched many innovations over the years that have made a significant impact on the pizza and delivery industries. Here's a look at some of Domino's key innovations: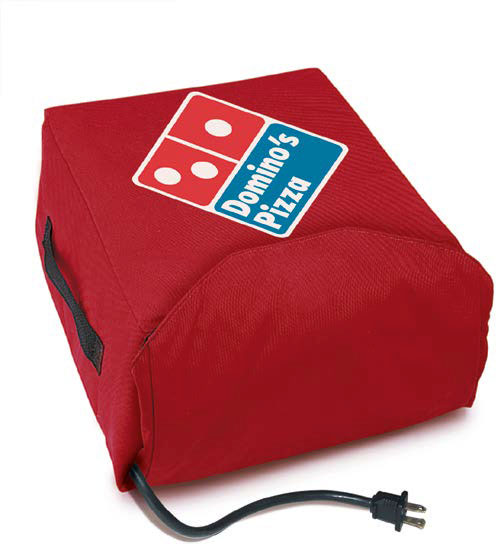 DOMINO'S HEATWAVE® HOT BAGS
Domino's HeatWave hot bags were introduced in 1998 to keep pizzas oven-hot during normal delivery. Originally, each hot bag contained a patented heating mechanism charged by plugging into an electric outlet at the store. The outer material of the bag is made with water-repellent nylon, which replaced the less sturdy vinyl material previously used. Domino's has continued to innovate and evolve the technology, removing the electric cord and heating each bag via an induction heating system. The latest edition of Domino's HeatWave hot bags relies solely on a patented insulation system that keeps pizzas both hot and crisp – eliminating the need for electricity.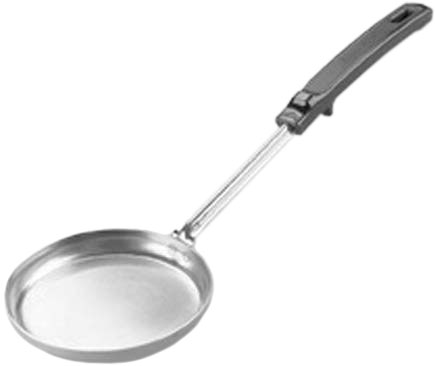 SPOODLE
Domino's looks for efficiencies in every aspect of the business, and the spoodle doesn't disappoint. Domino's developed this tool, which combines the best features of a spoon and a ladle, cutting down the time spent applying sauce to pizza.

DOMINO'S SUPPLY CHAIN CENTERS
To allow Domino's stores to concentrate on making and delivering pizzas, Domino's developed a central commissary system. This relieves stores from long hours making dough, grating cheese and preparing toppings. Through a network of domestic dough manufacturing and food distribution centers, Domino's provides high quality dough and ingredients nationwide, keeping the pizza consistently delicious. We regularly supply more than 6,600 Domino's stores in the U.S. with over 150 food products, allowing customers 34 million different ways to order a single Domino's pizza. Other pizza and quick-service restaurants in the U.S. have since adopted this system.

A BETTER BOX
Domino's was the innovator behind the sturdy, corrugated pizza box, which keeps moisture from weakening the box and prevents cheese from sticking to the top of the box during delivery, because nobody wants a messy pizza.
PIZZA SCREEN DEVELOPMENT
A delicious, crisp crust is one of the most important parts of a pizza. In search of the perfect crust, Domino's developed the pizza screen – a mesh tray that helps cook pizza crust more evenly than a tray made of wood or stainless steel.

CAR-TOP SIGN – IN 3D
Today it's hard to miss pizza delivery cars – thanks to Domino's. Domino's invented the 3D car-top sign, which is now used by a variety of industries, including taxis and driving schools.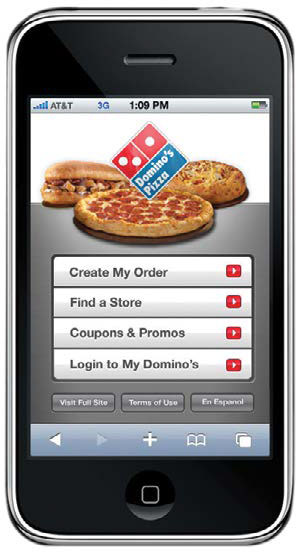 DOMINO'S ONLINE ORDERING
The beginning of Domino's technological innovation started with its online and mobile ordering system, which launched in 2007. Today, Domino's generates more than 80% of sales via digital ordering channels.

DOMINO'S TRACKER® & PIZZA BUILDER
In 2008, Domino's revolutionized the customer experience by launching its innovative Domino's Tracker and Pizza Builder tools. Domino's Tracker was an industry first, as it was the first tracker developed and used by a national pizza chain to allow customers to follow the progress of their order, from the time it's placed until they receive it. Domino's Pizza Builder also transformed the industry by allowing customers to make their favorite crust and toppings selections, and see their pizza come to life on the computer screen. Many other pizza companies have since followed suit and launched similar technologies to Domino's Tracker and Pizza Builder.

DOMINO'S PIZZA THEATER
After years of development and concept testing, Domino's unveiled a new "pizza theater" store design in 2012. The new store design allows flexibility for a number of features otherwise unheard of when it comes to the "traditional" Domino's store. Features include a comfortable lobby, open-area viewing of the food preparation process and the ability to track carryout orders electronically on a lobby screen. Some stores also feature chalkboards to allow customers to express their creativity or to leave feedback for store team members.

DOMINO'S ORDERING APPS / ANYWARE TECHNOLOGY
In addition to ordering apps for iPad, iPhone and Android, Domino's has several innovative ordering platforms, known as AnyWare technology, that bring even more convenience to the ordering experience. Customers can choose from a variety of ways to order, ranging from Amazon Alexa to text-to-order and more – allowing them to order from anywhere, at any time, using whatever device they'd like.

DOMINO'S DXP™ (DELIVERY EXPERT)
In October 2015, after three years in the making, Domino's launched the DXP, the first purpose-built vehicle aimed at revolutionizing pizza delivery. The DXP was born out of Domino's passion for innovation and started with a five-stage crowdsourcing competition hosted by Local Motors. The contest, called the Domino's Ultimate Delivery Vehicle Challenge, fielded 385 entries from designers around the world. Michigan-based Roush Enterprises and General Motors' former research and development executive Kenneth R. Baker then adapted the concept and worked closely with Domino's to transform the Chevrolet Spark® (with its international style, tech-savvy command deck and nimble maneuverability) into a delivery vehicle for pizza and other menu items – ensuring hot and great tasting pizzas delivered right to customers' doors.
The DXP holds up to 80 pizzas, along with other menu items including salads, wings and 2-liter bottles of soda. It features a warming oven, located behind the driver's door, that can hold two HeatWave bags and is quickly accessible to drivers with the touch of a key fob button. The car also comes equipped with a puddle light that projects the Domino's logo on the ground, as well as an illuminated Domino's car topper.

DOMINO'S PINPOINT DELIVERY™
In June 2023, Domino's launched Pinpoint Delivery – a new technology that allows customers to receive a delivery nearly anywhere, including places like parks, baseball fields and beaches, becoming the first quick-service restaurant brand in the U.S. to deliver food to customers with the drop of a pin. Domino's Pinpoint Delivery makes customers' experience even better and brings more convenience to them, as they are given the opportunity to receive their order at a countless number of dynamically created hyper-local spots without a typical address. Domino's Pinpoint Delivery allows customers to track their order with Domino's Tracker®, see their driver's GPS location, view an estimated time of arrival and receive text alerts about their delivery.