Franchisee Spotlight: Kenny Looney
After-school job turns into lifelong passion and career
Published: Dec. 1, 2020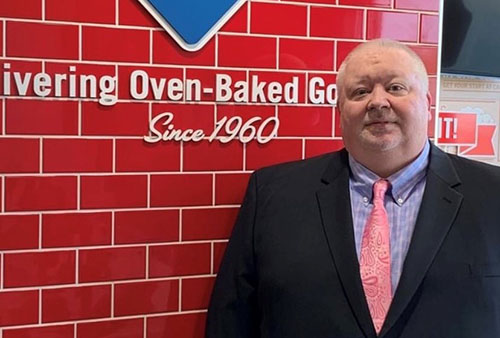 Kenny Looney was a sophomore in high school when he decided to apply for a job at his local Domino's store in Palestine, Texas. Since it was across the street from his high school, he thought it would be a convenient place to work for an after-school job. Little did he know, this would be one of the best decisions he ever made.
Kenny worked as a customer service representative at the Palestine Domino's all throughout high school. After graduation, he left for Basic and AIT Training for the National Guard. Training lasted for approximately seven months. Upon completion, he returned home and went to the Palestine Domino's looking for employment.
When he came home, things were a little different. The Palestine Domino's had changed ownership – but that didn't matter to Kenny. He applied for a position as a delivery driver and was hired. Kenny was motivated and after a few short months, he was promoted to assistant manager.
Within a year, Domino's in Nacogdoches offered Kenny the position of general manager, which he graciously accepted. He worked his magic and turned the store around. He moved back to Domino's in Palestine before taking over the Lufkin location in 1996. Two years later, the local franchisee purchased more stores and promoted Kenny to area supervisor. In 2010, Kenny became an operating partner of the stores. He held that position until September 2020 when he purchased Domino's in Nacogdoches, Palestine and Lufkin. His first job at Palestine Domino's had come full circle – what started off as a job as a customer service representative turned into Kenny owning his own business.
"Hard work and commitment does pay off," Kenny said. "The day that I became an official franchisee, every sacrifice that I have ever made became worth it. My father always taught me to outwork the person next to me and I feel like this has really stuck with me and helped me along the way. Who would have thought that first job I took would have guided me along my career path? It has been an incredible ride!"
Kenny is very involved in the communities where his stores are located. His stores support local schools, first responders and other local businesses. They also do something called Random Acts of Pizza (similar to random acts of kindness) where they show up at local businesses and surprise them with free food.
"I have always believed that if you take care of your community then they will take care of you," he said. "I believe that my stores' community involvement stands on its own merit."
Kenny's wife, Laura, is also involved with Domino's and serves as the stores' marketing director.
"She is outstanding at what she does," said Kenny. "She is the face of our local Domino's stores – and is mostly responsible for our stores' success."
If Kenny had to attribute his success to one thing, it would be diligence.
"I was determined to accomplish my dreams," he said. "I just couldn't imagine a future where I wasn't a Domino's franchisee."
Kenny's piece of advice to those looking to own their own business someday is to be persistent.
"Be willing to work and sacrifice when others are not," Kenny said. "If they aren't willing to invest the sweat equity, then business ownership probably isn't for them. There will be highs and lows. That sweat equity is invaluable through it all."
---
For more information on this story, contact us.