Duane Bowmer: On the Road to Success
Published: April 30, 2019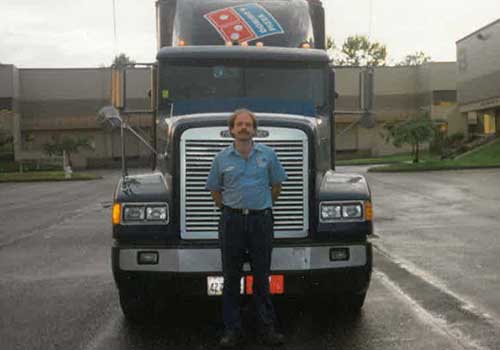 Domino's is known for pizza. When people think about a Domino's team member, naturally they think of a pizza maker or delivery driver. Not many people think about the individuals who work behind the scenes in supply chain – people like Duane Bowmer. Without team members like Duane, Domino's stores couldn't function. Duane is a truck driver in Washington, and a staple to the Domino's brand. He started driving for Domino's distribution center in 1984, delivering fresh dough, cheese, sauce, toppings and more to Domino's stores in his area. He has now been on the same route for 17 years. His passion and drive have paved the way for his lifelong career.
How It All Began
Duane's truck-driving career began with driving freight. The job took its toll on Duane though, as loading the freight sometimes took several days and, on some occasions, more than a week! Duane wanted to deliver something with a quicker turnaround, so he started delivering products for Domino's. His intention was only to work there for a year or two, but Duane fell in love with the brand, the franchisees on his routes, and the excitement of each and every day being a different experience.
What started out as a would-be short-term job has turned into a lifelong career for Duane. During his 35 years with Domino's, he has gone above and beyond. In fact, he has won more than 23 awards, including: The American Trucking Association's Million Miles Award 1,000,000 Perfect Miles; Washington Distribution Center Cal Ripken Jr. Award Over 15 Years Perfect Attendance; Ryder Driver of the Year; and One Million Perfect Miles with now another 1,000,000 miles safe driving for a total of 2,000,000 miles. With so many awards and accolades, it is beyond apparent how much pride Duane takes in his job.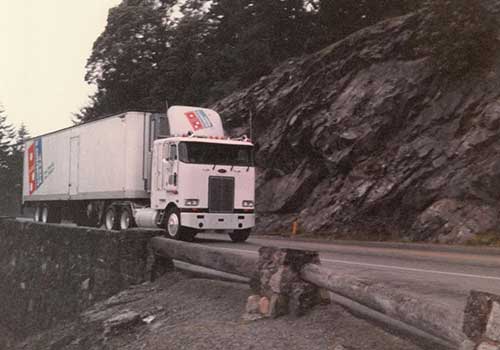 When Duane is not on the road, he likes to spend time with his wife, hunt, fish and hike. His most memorable hikes have been on Mount Rainier in Washington, Mount Hood in Oregon and Mount Whitney in California. Just like his career in trucking, Duane has climbed to the top.
About Domino's Supply Chain
The Supply Chain division of Domino's operates in 26 facilities across the United States and Canada, and employs nearly 1,700 team members. It partners with over 260 suppliers and distributes products and equipment to stores all around the world, moving 27 million pounds per week and averages 11,000 store deliveries each week. It is the primary source of pizza store products for the U.S. Domino's franchise system and regularly provides domestic pizza stores with more than 240 products. These products cover a wide range – from basic food items to pizza boxes and cleaning supplies – and the number of items continues to grow. Similarly, the ongoing demand for new technology and basic equipment is met by Supply Chain's Equipment & Supply division, which offers makelines, crew uniforms and merchandise support for national promotional programs.
---
For more information on this story, contact us.