Environment & Sustainability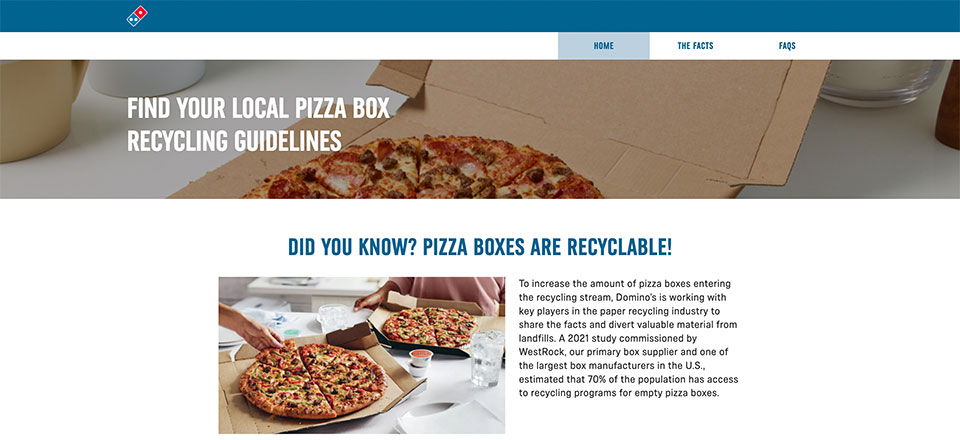 Pizza Box Recycling
Nearly everything that leaves a Domino's store leaves in the same type of packaging: corrugated cardboard boxes. Domino's currently has two corrugated box suppliers, each of which provide boxes made from more than 70% recycled content. Both box suppliers maintain certified fiber sourcing and chain of custody certifications using third-party audits.
Box fibers can't be recycled indefinitely, but can be recycled up to seven times, according to the American Forest & Paper Association. To continue to meet the demands for recycled content in corrugated packaging, it is key that pizza boxes are diverted from landfills and sent for recycling. Beginning in 2020, Domino's and its primary packaging partner, WestRock, joined forces to deliver the facts around pizza box recyclability by working together to launch recycling.dominos.com, which lays out the facts for consumers and provides a tool to look up their local access to pizza box recycling.
In August 2022, Domino's took it one step further by printing recycling messages on pizza boxes to reach consumers every day. According to an access study by Resource Recycling Systems, it is estimated that 70% of the U.S. population has access to pizza box recycling. By reinforcing the facts and directing consumers to recycling.dominos.com, Domino's boxes are a key step in reaching the vision of pizza box acceptance in all recycling programs.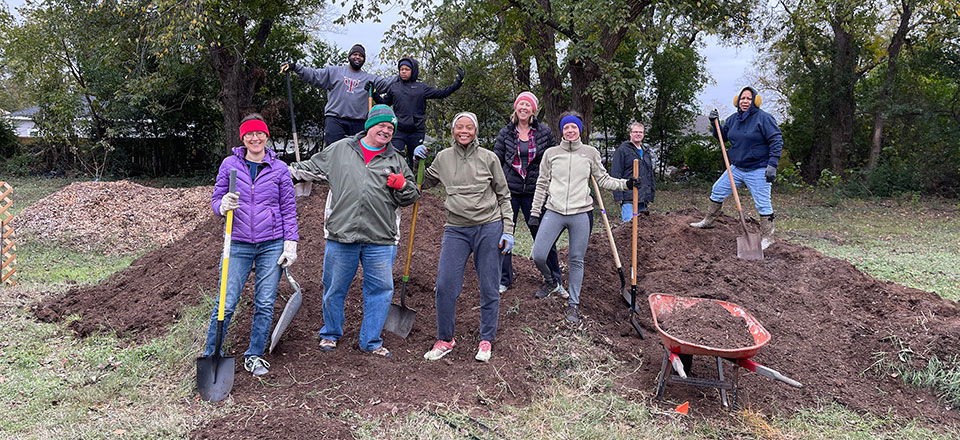 One Tree Planted
Domino's is proud to support One Tree Planted, a nonprofit organization whose mission is to restore nature, communities and biodiversity through global reforestation.

In 2020 and 2021, Domino's funded the planting of 100,000 trees in multiple national forests, state forests and watersheds across North America. In 2022, Domino's continued its partnership with One Tree Planted by supporting an urban forestry project in Dallas, Texas, to plant high-impact trees at community orchards through early 2023. Read more about the project in Dallas here.
Trees in cities like Dallas help reduce urban heat and provide green spaces, promoting community health, wellness, and recreation. In 2023, Domino's continued to support One Tree Planted's efforts toward tree equity by donating to its Urban Forestry Action Fund. Domino's contribution funded the planting of trees in Detroit, Michigan; Miami, Florida; Memphis, Tennessee; and Altadena, California – helping address environmental justice, urban heat mitigation, air pollution reduction and water resource protection.